Perch Base member Ernest V. Plantz, recipient of a Bronze Star and Purple Heart, and one of the first inductees to the Connecticut Veterans Hall of Fame, died at his Gales Ferry home Saturday, December 19, 2015, at the age of 95. Ernie was imprisoned from March 1942 until August 1945, as a Prisoner of War from the USS Perch, SS-176.
OBITUARY
Lieutenant Ernest Virgil Plantz, USN, retired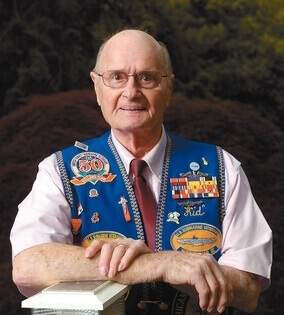 Ernest Virgil Plantz departed on eternal patrol on Saturday, Dec. 19, 2015, surrounded by his loving family.
He was born in Spring Hill, W.Va. Ernie was the loving son of Everett and Nancy (Hill) Plantz.
After completing high school, Ernie joined the Civilian Conservation Corps (CCC) where he learned many useful skills. In July 1940 he enlisted in the U.S. Navy and went to recruit training in Norfolk, Va. He then reported to his first duty assignment, the battleship USS New Mexico, (BB-40) which was undergoing refit in San Francisco, Calif.
In March 1941, Ernie responded to an appeal for volunteers for the submarine service and was transferred to the USS Perch (SS-176) stationed in the Philippines. He and his shipmates were on the scene in Manila Bay during the Japanese attack that began World War II for the United States. Ernie made two war patrols on the Perch, and it was on the second patrol that the Perch, so badly damaged from a severe depth-charging, had to be scuttled. Ernie and his shipmates were subsequently captured by Japanese naval forces and began what would become a three and a half year ordeal in a prisoner of war camp in Makassar on the island of Celebes.
The surviving members of the Perch crew were liberated at the end of the war, and Ernie and several of his shipmates spent months in Navy hospitals in California and Great Lakes, Ill., recovering their health and repairing injuries inflicted on them by the former captors. After medical clearance, Ernie, now chief electrician's mate, served in various assignments that included driver for the United Nations in New York City, ship's keeper on the USS Tautog in Great Lakes, and as chief of the Boat on the USS Spikefish (SS-404). Ernie's natural leadership abilities earned him a promotion into the officer ranks and in June of 1961 he reported to the submarine tender USS Bushnell (AS-15) in Key West, Fla. as its electrical officer.
While on this tour of duty, Carolyn Howard, Ernie's first wife was killed in a tragic boating accident leaving him with three children. He returned to the Groton submarine base, where he served in the U.S. Navy Submarine School and where he ultimately met his wife, Caroline. Ernie returned to Key West with his new bride as chief engineering officer of the Bushnell. They later returned to the Submarine School in Groton, now with four children, for his last tour of active duty. Ernie retired from the Navy in 1970 after serving for more than 30 years and having attained the rank of lieutenant.
While in service to his country, Ernie earned numerous medals and awards, which included the Bronze Star, the Purple Heart and the POW Service Medal. In more recent years, he was a member of the first class inducted into the Connecticut Veterans Hall of Fame and received the State Veterans Medal. Retirement from the Navy did not slow Ernie down, and in 1976 he received his bachelor of science in business from the University of Connecticut. Following graduation, Ernie and Caroline welcomed their fifth child. Ernie was a member of the Ledyard Lion's Club for many years, became a Melvin Jones Fellow, and served two terms as president. Ernie also served on the Ledyard Zoning Commission, in many positions in his church, and on the boards of numerous community agencies.
Ernie maintained his connections with the submarine community in various ways. He was a longtime member of the Submarine Veterans of World War II as well as Submarine Veterans Inc., the Veterans of Foreign Wars and the Holland Club, an organization for submarine veterans who have been qualified for greater than 50 years. In addition to these formal associations, Ernie loved to do service work. He shared his experiences with local schoolchildren at veterans events, inspired the next generation of submariners at Submarine School graduations, and presided at several Submarine Birthday Balls as the oldest qualified officer in attendance.
Ernie loved to garden; his dahlias won prizes at agricultural fairs, and his orchids are still in bloom in his greenhouse. His vegetables were the pride of the neighborhood, and although his bee hives and swarms caused a raised eye or two, his delicious honey soothed many previously doubting neighbors.
Though proud of his military service, community involvement and skill with growing things, Ernie was most proud of his five children and 10 great-grandchildren; he loved them dearly.
Besides Caroline, his devoted and loving wife of 50 years, he is survived by his daughter, Linda (Ross) and husband, John, of Norridgewock, Maine, and granddaughters Kathryn and Rachel; by his daughter Nancy (Grant) and husband, Andrew, of New London, and grandchildren, James, William Lillian, Hannah, Summer and Hattie; by his son, William and his partner, Elizabeth Kirsch, of Lebanon, and grandson Jesse; by his daughter, Elizabeth and her partner, Teresa Spillane, of Natick, Mass., and grandson Owen; and by his son, David, of Roslindale, Mass. In addition, Ernie leaves behind his sister, Norma (Mulford) of Tempe, Ariz.
Ernie was predeceased by his parents; his brother, Clifford; and his sister, Garnet; and by his first wife, Carolyn (Howard) Plantz.
Visiting hours will be from 3 to 6 p.m. Friday, Jan. 8, at the Byles-Groton Memorial Home, 310 Thames St. A celebration of life will be held at 10 a.m. Saturday, Jan. 9, at the Noank Baptist Church, 18 Cathedral Heights, Noank. Interment with military honors will be in Elm Grove Cemetery, Mystic.
In lieu of flowers, his family requests that donations be made to the Ledyard Lions Club, P.O. Box 404, Ledyard, CT 06339 or to the SVWWII National Memorial East Preservations Fund, 40 School St., Groton, CT 06340.
Ernie will be missed, but we will continue to feel his love and know that he is watching over us and urging us to look forward and travel onward.
Please visit www.byles.com to sign the guest book or share a memory.
Published in The Day on Jan. 3, 2016.
SAILOR, REST YOUR OAR! YOUR WATCH HAS ENDED.
Your Brothers of the 'Phin Have the Watch.
Fair Winds and Following Seas, Shipmate.