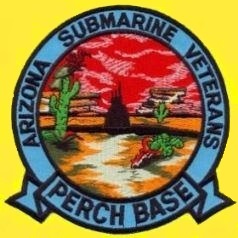 Arizona Submarine Veterans
Perch Base
Phoenix, AZ
United States Submariners
Lest we forget to perpetuate the memory of our shipmates who gave their lives in the pursuit of their duties while serving their country. . .
79 years ago, on May 23, 1939, the USS Squalus (SS-192) sailed off into history on her final and eternal patrol.
During test dives off Portsmouth, NH, the main engine air induction failed with resultant flooding. After the much-reported rescue and recovery of the ship, she was re-commissioned as the USS Sailfish.
26 men were lost.
"Sailors, rest your oars, we have the watch."
Visit the Perch Base Eternal Patrol page.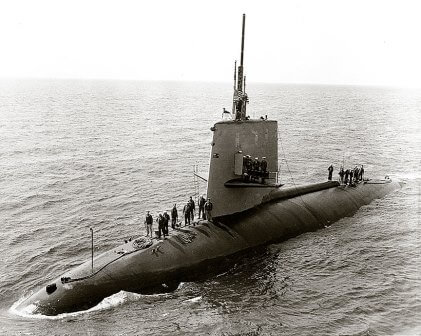 Lest we forget to perpetuate the memory of our shipmates who gave their lives in the pursuit of their duties while serving their country. . .
50 years ago, on May 22, 1968, the USS Scorpion (SSN-589) sailed off into history on her final and eternal patrol.
USS Scorpion (SSN-589) was returning to Norfolk, VA. from a Mediterranean deployment. On May 22, 1968 she reported her position to be about 50 miles south of the Azores. Scorpion was never heard from again. The exact cause of her loss has never been determined.
99 men were lost.
Visit the Perch Base Eternal Patrol page.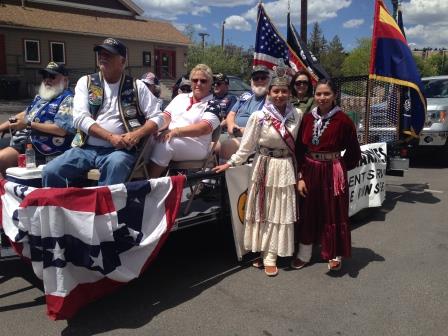 Flagstaff
A good turnout of Perch Base Members and wives participated in the Armed Forces Day Parade in Flagstaff on Saturday, May 19, 2018.
View more parade pictures HERE.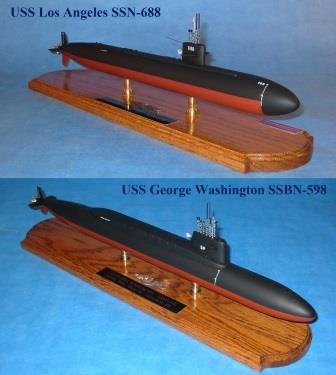 ASSM SUMMER CONTEST
The Arizona Silent Service Memorial (ASSM) Foundation is running a Summer Raffle. There are two ways to win. You may buy raffle tickets or you will also receive raffle tickets when you purchase memorial pavers.
The winner of the raffle wins a $500 Gift Certificate towards the purchase of your choice of a replica of one of Mel Douyette's Cold War Submarine models as advertised in the American Submariner magazine.
All mail in donations must be received by NO LATER THAN 11/15/18. Website donations will be open until 11/20/2018. The winner's name will be announced no later than 11/30/2018.
For details, follow this LINK to the flyer.
Other bases, non-members, businesses, and other organizations are encouraged to support the ASSM in the raffle, memorial paver purchases and donations.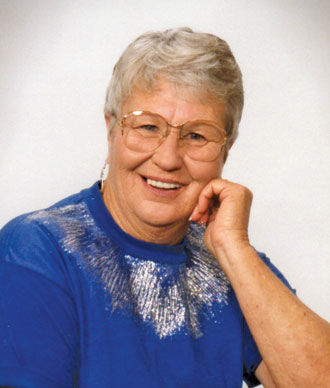 Linda Marie Wall, age 79, passed away May 1, 2018 in Sun City West, Arizona. Linda was born May 28, 1938 in Billings, Missouri to John Sims and Edith Pendleton Sims. She was a mother and homemaker. She and husband, Perch Base Life and Holland Club member, Jim Wall, SKCM(ss), (ret), came to Arizona to winter many years ago and eventually settled in Congress.
Perch Base extends our condolences to Jim and his family.
Services for Linda Wall were held at 2:00 PM on Sunday (May 20) at the Potter's House in Wickenburg, AZ.
Annual Picnic
Perch Base held its Annual Picnic meeting on Saturday, May 12, 2018. Some members from Tautog Base (Casa Grande), Gudgeon Base (Prescott Valley) and the Tucson Base also joined us.
Steve Sass and Jack Messersmith were inducted into the Holland Club, having been qualified in submarines for 50 years.
View more picnic pictures HERE.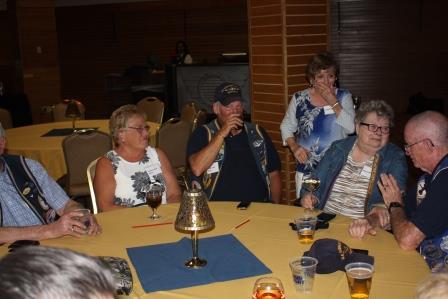 Western Regional Roundup:
Perch Base members attended the Western Regional Roundup in Las Vegas from April 23, 2018 to April 27, 2018.
Activities included a tour cruise on Lake Mead, a tour of the Southern Nevada Veterans Memorial Cemetery, Base officer and District Commander Seminars, a Kaps(SS) 4 Kids(SS) Meeting, a Fun Nite with a Memorabilia Auction, a Tolling of the Boats Ceremony with a speaker, informal luncheons and dinners, an ICEX-2018 presentation, and a formal banquet.
View more details and pictures HERE.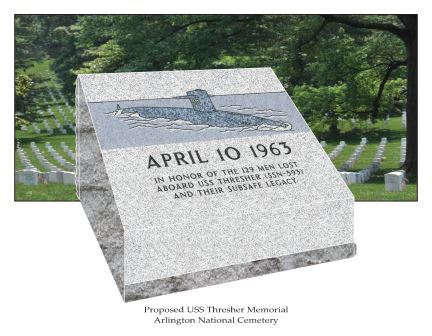 USS Thresher Monument At Arlington
The USS Thresher Arlington National Cemetery Memorial Foundation needs your help to realize our mission of erecting a National USS Thresher Commemorative Monument on the hallowed grounds of Arlington National Cemetery to honor and perpetuate the memories, and SUBASFE legacy, of the 129-men lost aboard USS Thresher on April 10, 1963.
A link to a project supporter's template letter is available HERE. Would you please download, fill out and send to Ms. Karen Durham-Aguilera, Executive Director, Army National Military Cemeteries?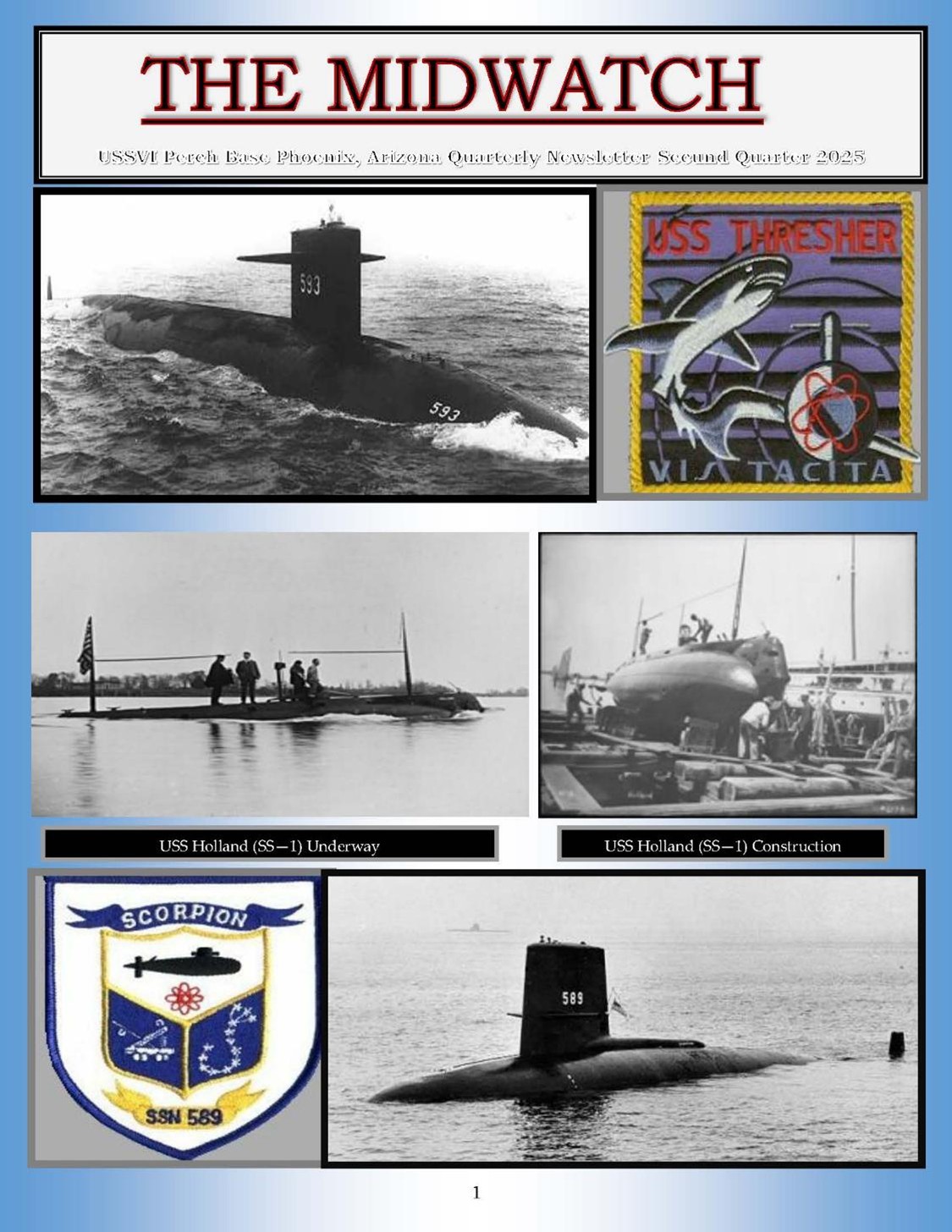 EXTRA, EXTRA! Read all about it!
The new MidWatch newsletter is published. Click HERE to read the new issue.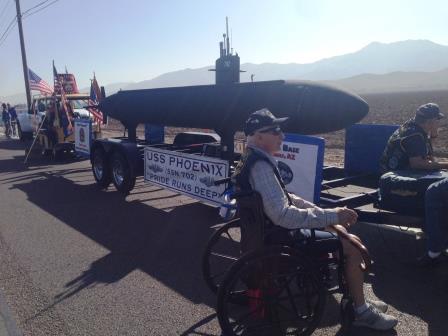 Perch Base participated on February 3, 2018 in the Laveen Community Parade.
The parade theme was "Cultivating a Community!"
View more details and pictures HERE.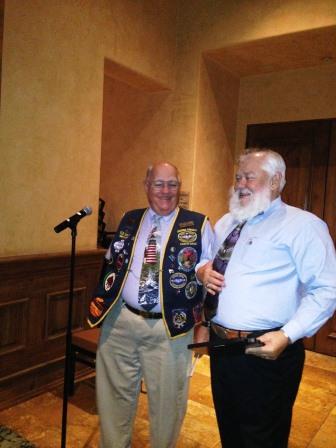 Annual Awards Banquet
Congratulations to Don Unser who received the "Sailor of the Year" award at the Perch Base Annual Awards Banquet on January 20, 2018.
Bryan Pellegrini, Don Unser and George Woods were inducted into the Holland Club (qualified submarines for 50+ years.)
Captain Norman Wells Mims, Jr., USN Retired, gave the keynote address.
View more awards and pictures HERE.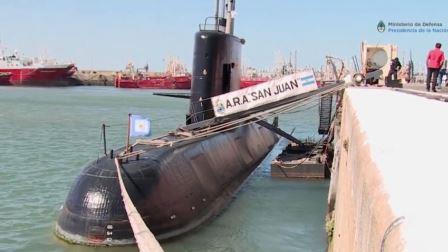 Although we usually only remember boats of the U.S. Navy, we extend our thoughts and prayers to the 44 "Brothers (and Sister) of the Phin" and their families in Argentina. The ARA San Juan was returning from a routine mission to Ushuaia, near the southernmost tip of South America, when it reported an "electrical breakdown" on November 15, 2017 and was not heard from again. More than a dozen countries have participated in the search for the sub that still remains lost at sea. 40 Shipmates Lost.
"Sailors, rest your oars, we have the watch."
Visit the Perch Base Eternal Patrol page.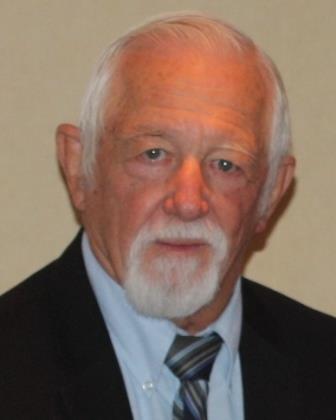 Richard Kunze
Our Perch Base Commander Richard Kunze departed on Eternal Patrol on August 14, 2017.
A memorial service was held Saturday, August 19, 2017 at the Surprise/Sun City Salvation Army.
An inurnment ceremony with full Navy honors was conducted September 27, 2017, at the National Cemetery of Arizona.
View and read more HERE.
SAILOR, REST YOUR OAR! YOUR WATCH HAS ENDED.
Your Brothers of the 'Phin Have the Watch.
Fair Winds and Following Seas, Shipmate.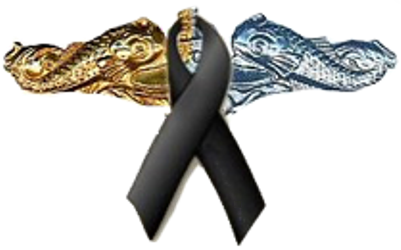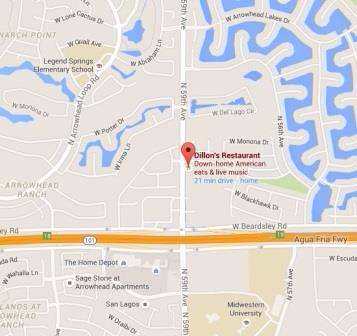 JOIN US AT A MEETING.
We meet the second Saturday of every month at 1200 hours (noon if you've been out a while) at Dillon's Restaurant, 20585 North 59th Ave, Glendale, AZ 85308-6821 (Left-click address, or the map above, for a Google map to Dillon's.) Come at 1100 for time to "socialize."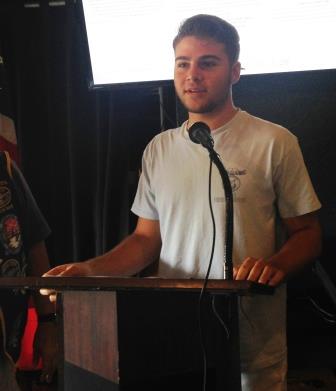 Base Scholarships
Congratulations to the 2017 Base Scholarship recipients.
Marley DeGroodt
Cameron Millette
Jacen Millette
Nathaniel Tippett
Jaid Urness
The Arizona Submarine Veterans Perch Base (Perch Base) believes it is part of our mission to assist, where possible, the dependent sons, daughters and grandchildren of our members in pursuit of a post-high school education.
View and read more about the Base Scholarship presentation HERE.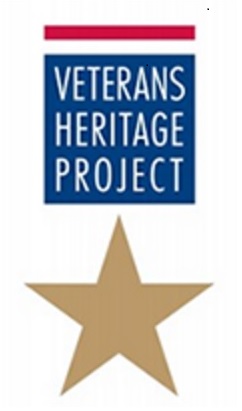 Veterans Heritage Project
Perch Base member Dick Noreika, Capt. USN (ret) encourages any submariners, but especially diesel boat sailors, to register for the Veterans Heritage Project. Many or our older sub sailors are sadly going on eternal patrol with stories that will be lost forever.
Contact Dick to get registered by emailing him at jnoreika@hotmail.com, or snail mail to P.O. Box 5272, Carefree, AZ 85377-5272.
Students in the Veterans Heritage Project (formerly Arizona Heritage Project) from chapter schools have conducted nearly 1,000 interviews with veterans from World War I to Afghanistan. An important reason to collect these narratives is to preserve them for future generations with the Veterans History Project at the Library of Congress in Washington DC, which has collected over 85,000 stories to date.
Click video to START.
The Loss of the Perch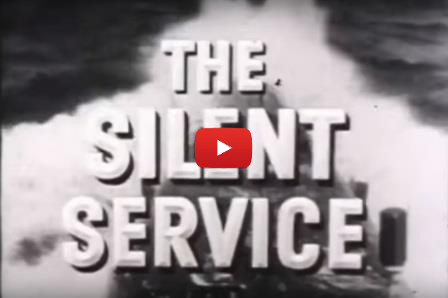 Click HERE to select another video.

Governor Ducey has ordered that flags at all state buildings be lowered to half-staff from sunrise until noon on Monday, May 28, 2018, in honor of Memorial Day and the service members who have died for our country. The flags should then be raised to full-staff at noon.
Individuals, businesses, and other organizations are encouraged to join in this tribute.
65 U.S. Submarines never returned to port. Click on Eternal Patrol and see pictures and stories of the "boats" that remain at sea . . . forever, on eternal patrol.

USSVI Creed:
"To perpetuate the memory of our shipmates who gave their lives in the pursuit of their duties while serving their country. That their dedication, deeds and supreme sacrifice be a constant source of motivation toward greater accomplishments. Pledge loyalty and patriotism to the United States of America and its Constitution.
In addition to perpetuating the memory of departed shipmates, we shall provide a way for all Submariners to gather for the mutual benefit and enjoyment. Our common heritage as Submariners shall be strengthened by camaraderie. We support a strong U.S. Submarine Force.
The organization will engage in various projects and deeds that will bring about the perpetual remembrance of those shipmates who have given the supreme sacrifice. The organization will also endeavor to educate all third parties it comes in contact with about the services our submarine brothers performed and how their sacrifices made possible the freedom and lifestyle we enjoy today."

We honor those submariners
who have never
returned to port
and remain on
Eternal Patrol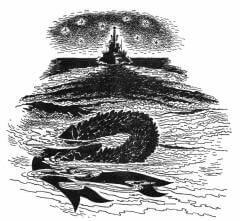 Click on the picture, above,
to see those boats on
"Eternal Patrol"

IF YOU'VE EARNED THESE...

WE are an organization with but one simple requirement to join
— have you ever worn Dolphins?
(been designated, "Qualified in Submarines.")
All of us have served their country
in the Silent Service

...WE WANT YOU!

Because we are the "SILENT SERVICE," many people are unaware of the services our submarine brothers performed in the Korean and Vietnam Wars. Thirty submarines served in the Korean War, as detailed on the USS Bowfin Submarine website. Sixty-six submarines served in the Vietnam War, as detailed in a letter from United States Secretary of the Navy Ray Mabus.

Click on this sentence, or the photo, below, to see how the float was constructed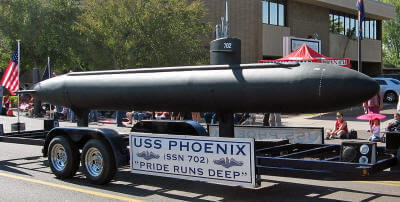 To honor those who currently serve, and those who went before us, we built this float that we use in parades and static displays. The float is a 1/15 scale model of the nuclear powered submarine USS Phoenix (SSN-702,) named after our city. The Phoenix was a Los Angeles-class submarine that was 362 feet long and, on the surface, had 32 feet of the ship under water.
Need a description of the Perch Base float, a scale model of the USS Phoenix (SSN-702)?
Click on the document icon, below, to get the approved and authentic script suitable for parades or other public events.
Refer the event organizers to http://www.perch-base.org/Float-Announcer-Script.pdf