Arizona Submarine Veterans
Perch Base
Phoenix, AZ
United States Submariners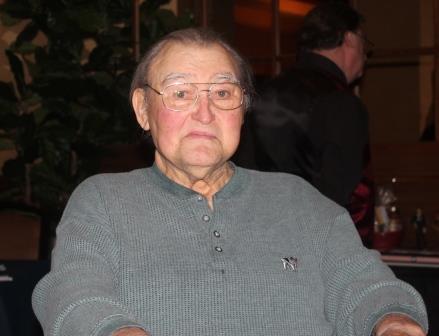 Walt Blomgren
Perch Base member Walt Blomgren went on Eternal Patrol on May 24, 2016. Walt was our Base Chaplain in 2009-2012 and Event Coordinator in 2013. He was a member of the Holland Club, having qualified in submarines over 50 years ago.
Walt was born in 1938 and enlisted in the Navy from 1957 to 1961, leaving as an EN2(SS). He served and qualified on the Argonaut (SS-475) from 1957 to 1959 and then on the Halfbeak (SS-352) from 1960 to 1961.
A brief military service will be conducted at the National Memorial Cemetery of Arizona on Cave Creek Road on Tuesday, May 31 at 2:30 p.m.
SAILOR, REST YOUR OAR! YOUR WATCH HAS ENDED.
Your Brothers of the 'Phin Have the Watch.
Fair Winds and Following Seas, Shipmate.
View the obituary HERE.
Lest we forget to perpetuate the memory of our shipmates who gave their lives in the pursuit of their duties while serving their country. . .
77 years ago, on May 23, 1939, the USS Squalus (SS-192) sailed off into history on her final and eternal patrol.
During test dives off Portsmouth, NH, the main engine air induction failed with resultant flooding. After the much-reported rescue and recovery of the ship, she was re-commissioned as the USS Sailfish.
26 men were lost.
"Sailors, rest your oars, we have the watch."
Visit the Perch Base Eternal Patrol page.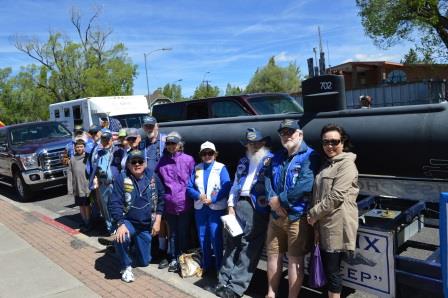 Flagstaff
A good turnout of Perch Base Members, wives and family participated in the Armed Forces Day Parade in Flagstaff on Saturday, May 21, 2016.
View more parade pictures HERE.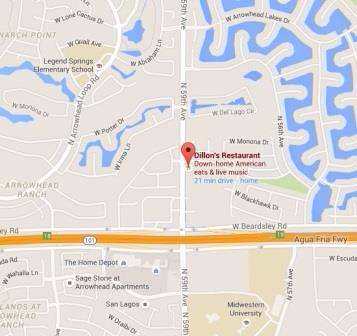 JOIN US AT A MEETING.
We meet the second Saturday of every month at 1200 hours (noon if you've been out a while) at Dillon's Restaurant, 20585 North 59th Ave, Glendale, AZ 85308-6821 (Left-click address, or the map above, for a Google map to Dillon's.) Come at 1100 for time to "socialize."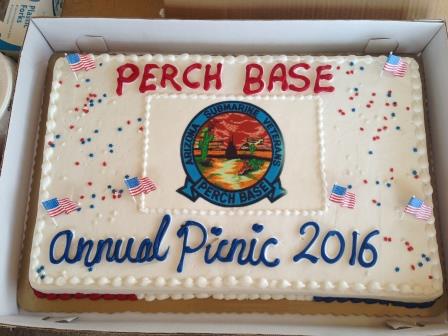 Annual Picnic
Perch Base held its Annual Picnic meeting on Saturday, May 14, 2016. Some members from Tautog Base from Casa Grande, White Mountain Base and Gudgeon Base from Prescott Valley also joined us.
Four Perch Base members were inducted into the Holland Club, having been qualified in submarines for 50 years.
View more picnic pictures HERE.
Western Regional Roundup
The Annual United States Submarine Veterans Western Regional Roundup was held from May 1, 2016 to May 6, 2016 at the Aquarius Casino Resort in Laughlin, NV.
Activities included a tour of the Submarine Memorial Museum at VFW 2555 in Golden Valley (near Kingman, AZ,) formal and informal luncheons and dinners, a boat ride, a fun nite, a joint BBQ with American Legion Post 60, and a Tolling of the Boats ceremony.
View more pictures HERE.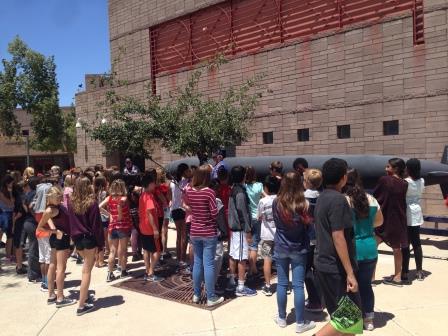 Akimel-A-al
Perch Base took the USS Phoenix to Akimel-A-al Middle School on May 9, 2016, for a static display.
The students and staff put on an excellent Twenty Third Annual Patriotic Day Celebration program that made all the Veterans present feel appreciated. They even serenaded us and served us breakfast.
View more pictures HERE.
Passing of a Shipmate and Friend
On Tuesday, April 19, Billy Grieves, departed on Eternal Patrol. He apparently just slipped his lines and drifted off. The family has no plans for any service.
Billy recorded an oral history in 2007 of his war patrols
Follow the link to his video HERE.
"Sailor, rest your oars, we have the watch."
HAPPY BIRTHDAY
The "Submarine Force Birthday" was April 11. Holland VI was purchased by the U.S. government for the sum of $150,000 on 11 April 1900 from John Phillip Holland's Holland Torpedo Boat Company. She was considered to be the first truly successful craft of her type. Holland VI was modified after her christening, and was renamed USS Holland (SS-1) when she was commissioned. The United States Government soon ordered more submarines from Holland's company, which became the Electric Boat company. These boats were to be known as the Plunger class. These became America's first fleet of underwater naval vessels.
Some Submariners consider April 11 to be "Wear Your Dolphins to Work Day."
Herb, our Base Storekeeper is promoting some items in stock to reduce excess inventory. Visit the Storekeeper's page to see available stock and prices. First pick is to the Base membership at the Base Meetings.
Visit the Perch Base Storekeeper's page.
Perch Base members displayed the USS Phoenix (SSN-702) float at the USS Phoenix Cold War Monument Park Site Dedication at the Steele Indian School Park on March 22, 2016.
The USS Phoenix sail, diving planes and rudder will be located just north of the Arizona State Veterans Home at the park.
View more pictures of the dedication HERE.
Click video to START.
The Loss of the Perch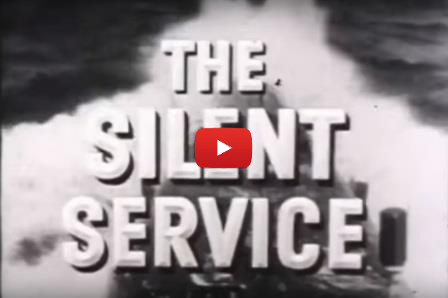 Click HERE to select another video.

Governor Ducey has ordered that flags at all state office buildings be lowered to half-staff from sunrise until noon on Monday, May 30, 2016, in honor of Memorial Day and the service members who have died for our country.
Individuals, businesses, and other organizations are encouraged to join in this tribute.
65 U.S. Submarines never returned to port. Click on Eternal Patrol and see pictures and stories of the "boats" that remain at sea . . . forever, on eternal patrol.

USSVI Creed:
"To perpetuate the memory of our shipmates who gave their lives in the pursuit of their duties while serving their country. That their dedication, deeds and supreme sacrifice be a constant source of motivation toward greater accomplishments. Pledge loyalty and patriotism to the United States of America and its Constitution.
In addition to perpetuating the memory of departed shipmates, we shall provide a way for all Submariners to gather for the mutual benefit and enjoyment. Our common heritage as Submariners shall be strengthened by camaraderie. We support a strong U.S. Submarine Force.
The organization will engage in various projects and deeds that will bring about the perpetual remembrance of those shipmates who have given the supreme sacrifice. The organization will also endeavor to educate all third parties it comes in contact with about the services our submarine brothers performed and how their sacrifices made possible the freedom and lifestyle we enjoy today."

We honor those submariners
who have never
returned to port
and remain on
Eternal Patrol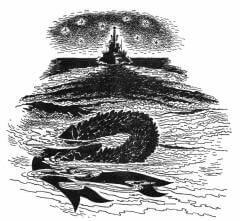 Click on the picture, above,
to see those boats on
"Eternal Patrol"

IF YOU'VE EARNED THESE...

WE are an organization with but one simple requirement to join
— have you ever worn Dolphins?
(been designated, "Qualified in Submarines.")
All of us have served their country
in the Silent Service

...WE WANT YOU!

Because we are the "SILENT SERVICE," many people are unaware of the services our submarine brothers performed in the Korean and Vietnam Wars. Thirty submarines served in the Korean War, as detailed on the USS Bowfin Submarine website. Sixty-six submarines served in the Vietnam War, as detailed in a letter from United States Secretary of the Navy Ray Mabus.

Click on this sentence, or the photo, below, to see how the float was constructed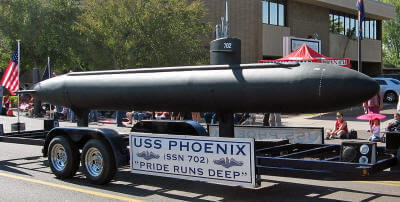 To honor those who currently serve, and those who went before us, we built this float that we use in parades and static displays. The float is a 1/15 scale model of the nuclear powered submarine USS Phoenix (SSN-702,) named after our city. The Phoenix was a Los Angeles-class submarine that was 362 feet long and, on the surface, had 32 feet of the ship under water.
Need a description of the Perch Base float, a scale model of the USS Phoenix (SSN-702)?
Click on the document icon, below, to get the approved and authentic script suitable for parades or other public events.
Refer the event organizers to http://www.perch-base.org/Float-Announcer-Script.pdf